Nowadays, LED special-shaped display pay more attention to structural breakthroughs, and are more inclined to occasions with special requirements. Usually, in the case where the curvature of the display screen is small and the display form is more complicated, the seam and the flatness are not well solved, which results in display inconsistency, mosaic and other problems. Thus leading to poor overall display performance. In response to this problem, Flexible led panel came into being with plenty of advantages unmatched by ordinary curved led display.
Flexible led display connection surface is different from traditional led video screen. Traditional PCB board is made of glass fiber material, and led flex panel is equipped with high-strength lock and link device. Flexible FPC circuit board, which is made of flexible insulating substrate, uses rubber in both face mask and bottom shell. It has high-strength compression and anti-distortion ability, which perfectly solves the problem of difficult installation of various "Turning Corners".Most of the installation methods are mainly magnetic column suction, and the installation method of "one-loading and ready-made" is adopted, that is, the customization of the shape is completed according to the customer's requirements, and then one-step installation can be realized by the direct adsorption. The installation method of magnetic suction is as simple as the conventional indoor led display installation method. In addition, the connection lines of the cabinet are fast butt joint, which is firm and reliable.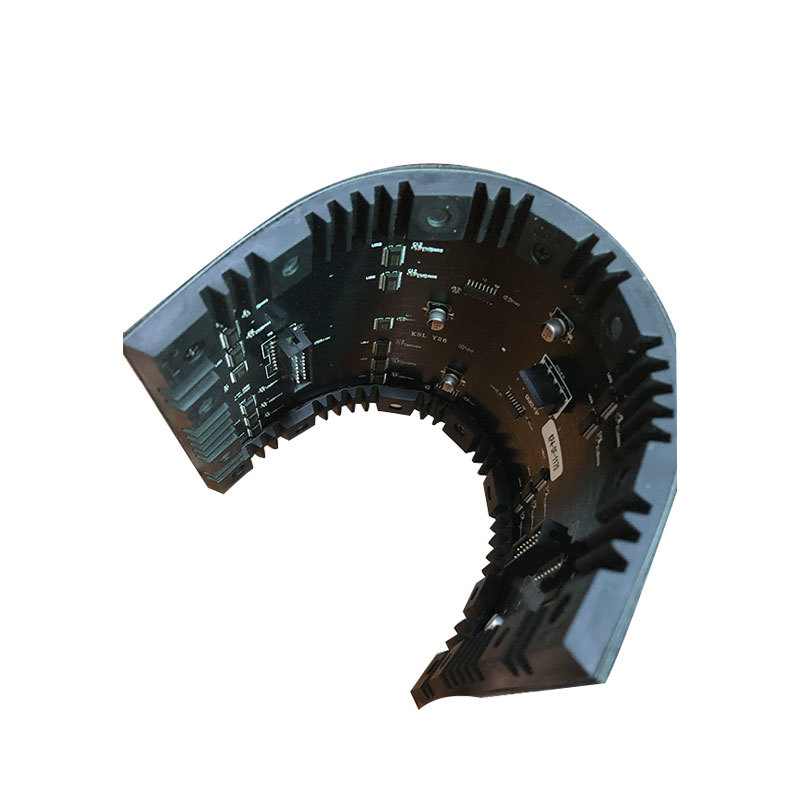 It has good ductility and can be arbitrarily shaped. Among them, the cylindrical led screen has a performance of high brush, which can be hoisted, seated, mounted, etc., meeting the requirements of the current sound to the utmost. And also, high demand of various cylindrical display projects are guaranteed. It adapts advanced digital video processing, technical distributed scanning and 360-degree HD LED Display. What's more, multi-picture soft flexiable led panel has been realized, which leads to three identical and lifelike images with views from any angle of the display. This expands the visual range of products and becomes the leader in multimedia products.It has high quality, and it can achieve single point maintenance with low maintenance cost; it has high brightness with low dead light rate and energy saving; it is seamless splicing with the control of splicing error between Flexible LED Panel within plus or minus 0.1mm, it can also be made into any shape according to the users' demands; the flatness is good, and since the silicone is used, it has soft hand feeling and there is no protrusion even after finger scratch; the real-time broadcast is supported, and the DVI, HDMI, 3G/HD/SD three-speed SDI high-definition display mode is suitable for TV video programs, VCD or DVD , on-site live places and other sorts of indoor places; it has stable circuit board, which adopts the wave soldering process.
In addition, the green oil oxygen barrier layer prevents moisture and oxidation of the line, thus improving the service life.LED flexible panel special-shaped screens have been used in stage performances, fashion shows, TV stations, banks, plazas, shopping malls, hotels, KTVs, bars, etc., achieving quite a few effects beyond the reach of conventional led video display. At present, the market is applied more indoors, including inner and outer arcs.
About Atop
As a professional LED Display Manufacturer, Atop provides reliable products, comprehensive services and creative solutions.Since establishment, our team has been continuously innovating. Our Rental LED Display,LED Poster, Stage LED Screen, Flexible LED Display,Transparent LED Display, Church LED Wall, Concert LED Screen, LED Drape Screen, Nationstar LED Screen, LED Display Ball, Stadium LED Screens have the most advanced technology and forward-looking design in the present market.
Shenzhen Atop Led Opto Electronic Co., Ltd founded in 2009, is a high-tech private enterprise specialized in LED Screens manufacturing. It has been dedicating itself to offering OEM & ODM, as well as one-stop LED display solutions to its customers around the world, including R&D, assembly, sale and technology support. It is fully equipped with modern automatic assembly lines, with the manufacturing capabilities of 3000 m² per month.