Outdoor Led Panels P10 Football Stadium Perimeter 960*960mm Advertising Screen Display Video TV Wall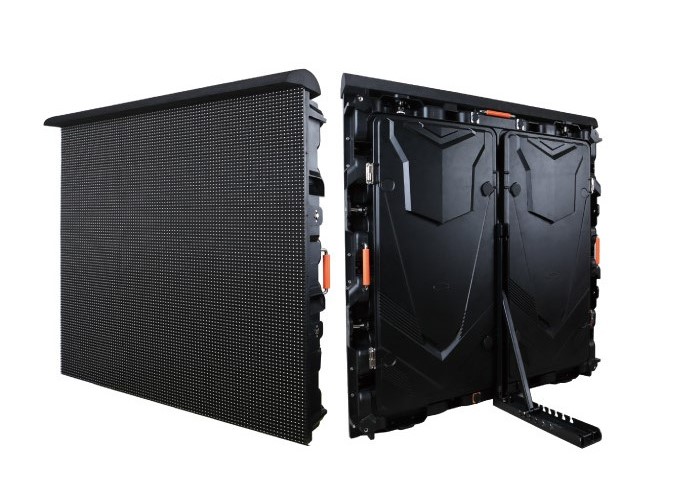 P10 Stadium Screen
Magnesium Alloy cabinet,well ventilation,anti wear,anti collision
Polymer soft cover and soft module mask to prevent from collision
Seamless stitching for better display
Frame angle can be adjusted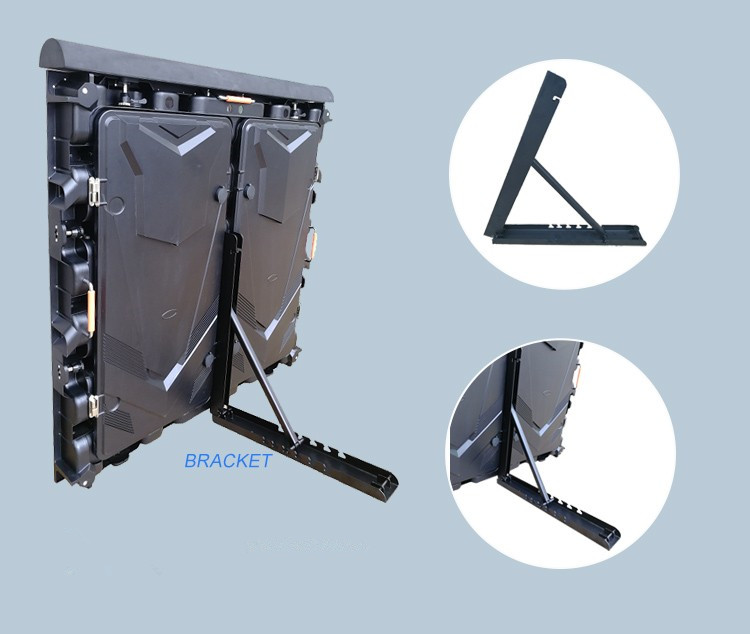 Bracket for stadium cabinet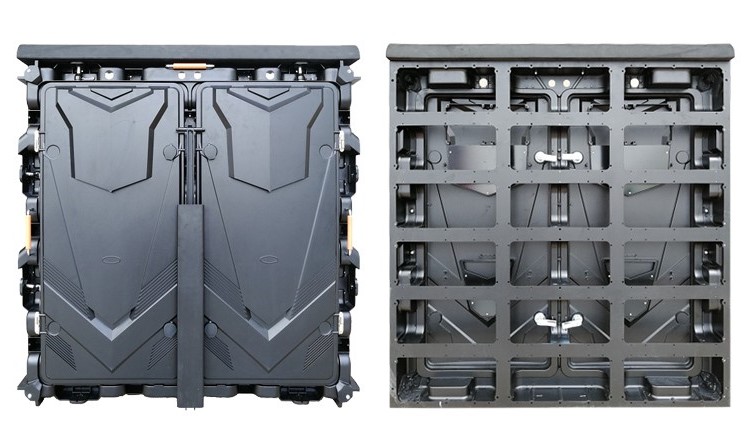 Stadium cabinet back side Stadium cabinet front side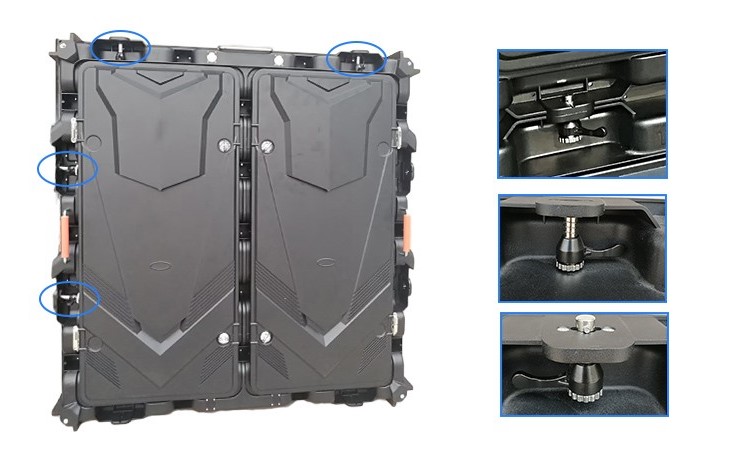 Fast locks
Each cabinet have 4 fast locks
2 locks on top of cabinet
2 locks on left side of cabinet
Locks help to fast installation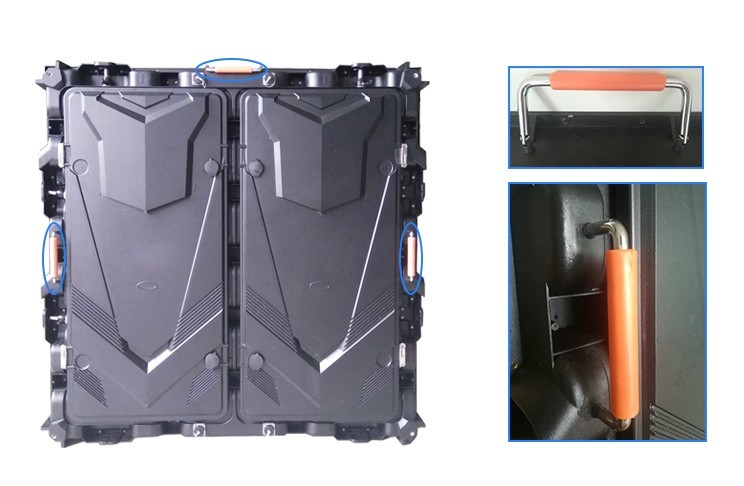 Handles
Each cabinet has 3 handles
1 handle on top,2 handles on sides
easy to carry cabinet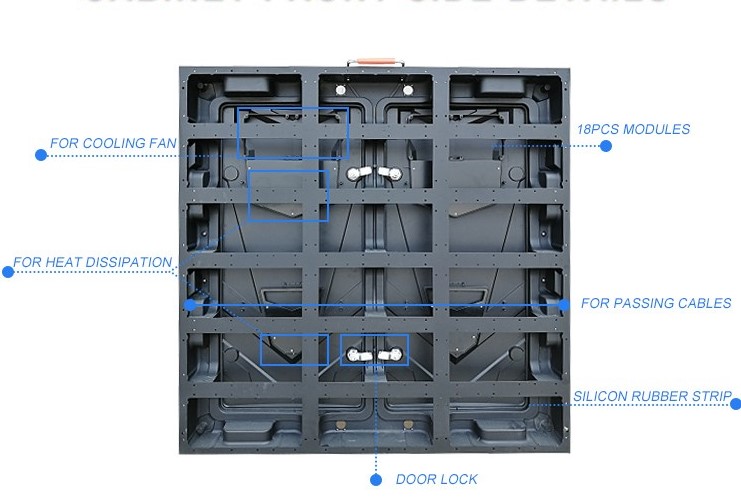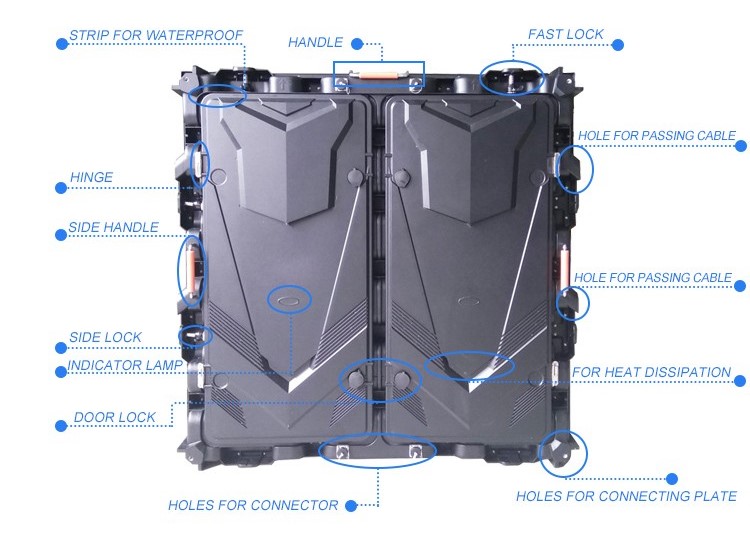 Main features:
1.Humanization Design With special soft screen mask and cabinet cover, it can protect the players from being hurt during the match.
2.Hot backup data system when one data line/controller breaks down, the other will start to work automatically, ensure the continuous work
of the screen in live broadcast.
3.Quick installation with fast lock, also with high standard aviation connector Saving installation time and aviation connector will ensure the
stable and reliable of the screen especially in some important occasions.
4.Large viewing angle SMD lamps offer 160/160 degree viewing Angle ,also the independent brackets support flexibly (65°- 75°- 90°) for audience and cameras.
5.High Refresh with 3840Hz 3840Hz high refresh rate, supporting camera shooting and streaming live.
6.Automatic adjustable high brightness Will adjust the brightness according to the environment, saving power consumption
7.High IP Rating It can both be used indoors and outdoors, as it is equipped with the latest outdoor SMD and DIP technology. And thanks to its full IP65 rating - it is
completely waterproof.
Specification
Single Cabinet size (W x H)

960mm×960mm

Cabinet Resolution

120x120=9216pixels

Cabinet Weight (kg/set)

34KG

Cabinet Material

Magnesium Alloy cabinet

Pixel Pitch(mm)

10mm

pixel density(dot/㎡)

10,000

Brightness (cd/㎡)

6000

Module size(mm)

320×160

Resolution (dot)

40x20

pixel configuration

R G B

Driver IC

ICN2037

Power Supply

CZCL

Best View Distancing

10m and exceed

Vertical Viewing Angle

120° (Standard LEDs Viewing Angle)

Horizontal Viewing Angle

140° (Standard LEDs Viewing Angle)

Brightness

6000cd/㎡ Ensure brilliant images

Brightness Adjustment

Manual, 256 level; Auto, 8 levels

Grey Scale

256 Shades Per Color

Grey levels

16 bits

Operating Temperature

–25℃~+50℃ 30%~90%RH

Input Voltage

AC110V/220V±10%

Input Power Frequency

50/60Hz

Screen Power Consumption

Max: 900w/㎡; Average: 300w/㎡

Refresh Rate

1920HZ-3840HZ

Frame Rate

> 60 frames/sec

Defect Rate

≤0.0001

Humidity

0-90%

IP rate (Front / Back)

IP65/IP65

Control Method

Synchronized with computer monitor

Way of Drive

1/2scan

Color Temperature

6500K±500

Color

> 16.7millions

Support Mode

VGA, 800*800 display synchronically with the computer, correspondence dot to dot

Control Distance

120 m (no repeating); Optical fiber transmission: 500m- 10km
Application