The general idea of implementing a power distribution system is that according to the power consumption of the screen,
on-site construction requirements and the load of the power distribution cabinet, comprehensively design the power
distribution system. The implementation steps are as follows:
1) Calculate the max power of the entire custom led screens;

2) According to the max power of the entire screen, select a power distribution cabinet with a suitable load;
3) Choose the main cable and main cable wiring scheme according to the load of the power cabinet;

4) Comprehensively allocate power according to the arrangement and combination of the screen and the max power of each power
cabinet, and select reasonable cables;
5) Comprehensively carry out construction and wiring according to the main cables, power distribution cabinets and screens
Case Study
Make case analysis and explanation based on the following general power distribution connection diagram: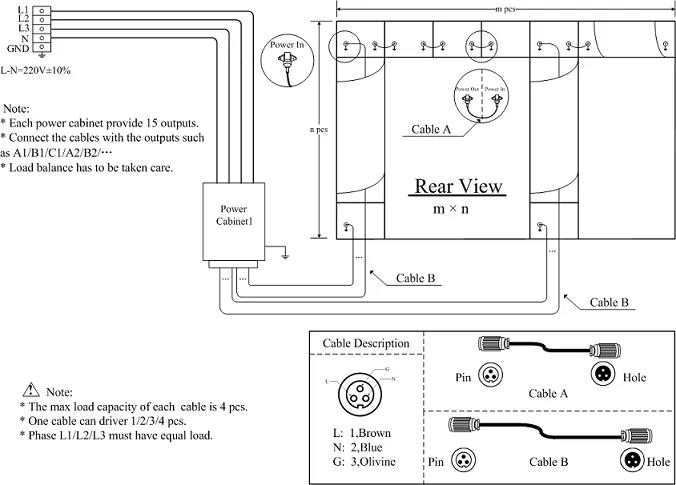 Take P8 full color 8 (long) X 6 (high) as an example
1) Calculate the max power consumption of the whole led screen wall, the max power consumption of a single cabinet is 1KW, the whole screen is
48KW;
2) Choose a power distribution cabinet: the max power consumption of the screen is 48KW, and generally choose a 60KW power distribution
cabinet;
3) Bus wiring: adopt three-phase five-wire wiring scheme;
a, Three-phase five-wire system: three live wires, one neutral wire, and one ground wire.
b. Material selection principle: If the power supply inside the cabinet adopts a PFC (automatic phase adjustment) circuit point power supply, the
size of the 5 wires is the same. If it is not a power supply with a PFC circuit, the wire diameter of the live wire and the ground wire are the same.
The zero wire is twice the size of the live wire.
c. The total power consumption of the whole screen is 48KW, there are three live wires, and the current carried by each live wire is 72.6A.
Generally, the wire trough for bus wiring is a steel trough. At this time, the load of each bus is 72.6A. Generally, Generally, copper wire is used for
wire material, which is more cost-effective. Check the electrical manual again, and the bus wire diameter is 25 square millimeters (copper wire ), 35
square millimeters (aluminum wire).
4) Distribution of power distribution cabinets:
The whole screen is 8 (length) X 6 (height), the max power consumption per box is 1KW, 8 boxes each row, that means each row is 8KW, the current is 36.36A, each sq.m
can driver 5A, that means each row requires two 4 sq.m wires, and each wire can driver 4 cabinets.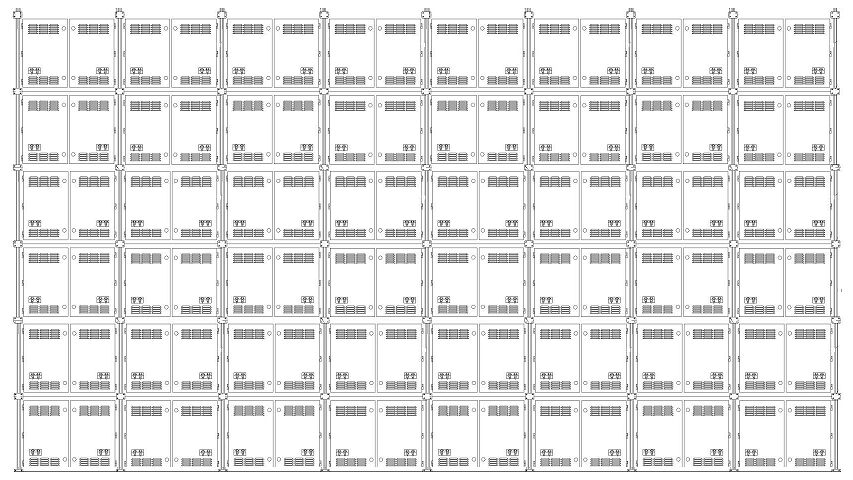 5) Comprehensive wiring: According to the site construction situation, comprehensive wiring:
A. Add a master switch between the bus and the distribution cabinet;
B. Pay attention to the three-phase balanced distribution of the wiring from the distribution cabinet to the screen to avoid overload the neutral line.