Contributing to the decision opportunities is the emergence of digital signage, a trend with such tremendous benefits it is impossible to ignore. With a variety of display options available, retailers around the world must carefully analyze which digital signage technology provides the best solution for a store's specific needs.
Today's major contenders are LCD and custom LED displays, each of which has a unique place in retail environments. LCDs are backlit displays that create images by permitting light transmission through their liquid crystal lens. They have the greatest resolution on smaller displays, from 20 to 100 inches, and offer versatility as they can be tiled together to create larger displays. LEDs, light-emitting diodes, on the other hand, are ideal for larger displays, typically over 100 inches. LED displays create images by changing the brightness of LEDs, and are scalable to any size with no visible seams. Their most impressive features for retail are their brightness capabilities with minimal glare, a significant visual benefit for continuous, uninterrupted imagery on large video walls.
With obvious advantages to both LCD and LED displays, the cost of ownership weighed against the features and benefits of each often becomes the deciding factor. LCD displays have a typical lifespan of 30,000 to 60,000 hours, or 3.4 to 6.8 years, and have historically required less of an initial investment. Today, however, point-of-entry for LED displays typically can start 20 percent lower than the lowest point-of-entry for commercial-grade LCDs, making them appealing as an introduction into digital technology. Higher-end LED displays require a greater initial investment, but have a typical lifespan of 80,000 to 100,000 hours, or nine to 11.4 years. With image and color consistency throughout the whole display, LEDs provide the contrast ratio and brightness needed for indoor and outdoor settings alike.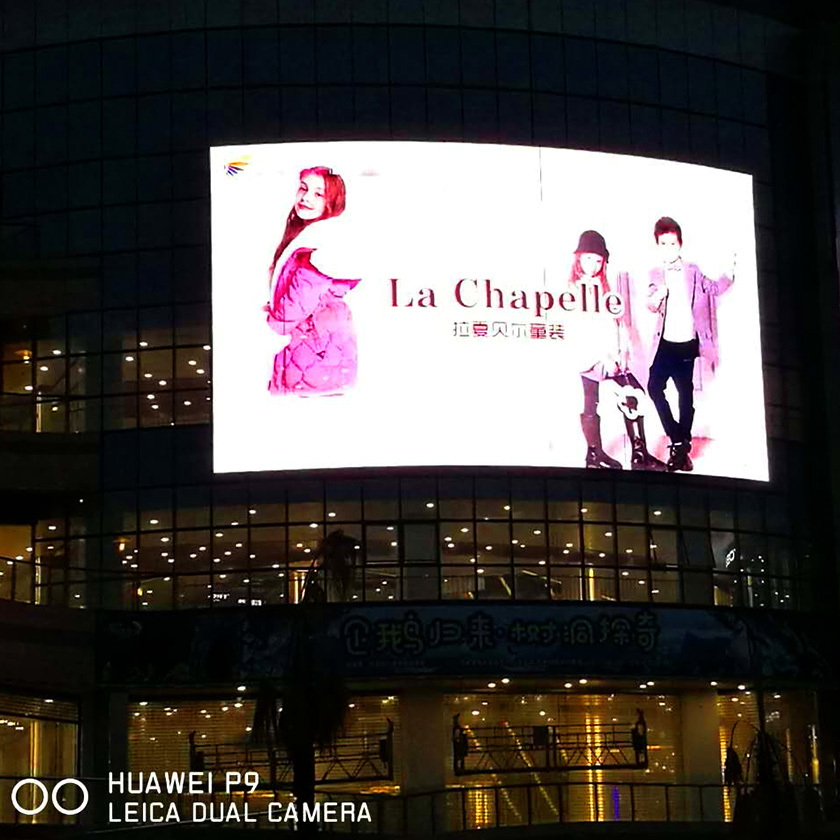 A massive digital LED column standing more than 13 feet high welcomes visitors to Express Union Square with high-definition content.
Above the store's cash wrap area is a 4 mm high resolution LED display that emphasizes the Express brand. LED was the chosen product for this project because the display needed to cover 121.52 sq. ft. of surface area with no visible seams.
A 2.5 mm high-resolution indoor display was built. LED was chosen for this display because Express was looking for a solution that could provide brightness and vibrancy, free from bezels and seams. Prominently positioned at the top of the escalator bank is an 11 ft. high x 5 ft. wide display to greet guests with content featuring models wearing the latest fashion collections from the brand's four lifestyles. The displays seamlessly blend into these sleek retail environments while enriching the instore customer experience. This shift from static to digital signage has transformed into a dynamic shopping experience.
LED is noteworthy for various reasons. First, it can be used to create unique shapes.
Second, given the same brightness, LEDs are typically 30 percent more efficient on average than LCD displays, resulting in a 30 percent reduction in energy consumption for lower monthly power bills. The reduced power usage also results in lower heat production and thus reduced cooling bills.
Finally, from a maintenance perspective, LED has benefits. As in any technology, minor failures occur; modules go out and physical elements break down. LED, however, allows much more flexibility when these inevitable failures occur. In an LED display, individual components can be repaired or replaced without having to unnecessarily replace functional parts.
After accounting for extended lifetime, reduced power, and cooling expenses, the breakeven point between LCD and LED begins at high definition resolutions, ideal for large displays, particularly for longer in-store viewing distances, and is anticipated to continue to improve in the years to come. For closer viewing distances, the extra features of ultra-high-definition LED displays, including expanded brightness and contrast, reduced glare, curved and unique shapes, and modular maintenance capabilities justify the possible additional investment. When factoring in all relevant considerations to develop the true cost of ownership over the lifetime of the product, current LED display pricing can now meet or exceed the affordability of comparable-sized LCD displays, making it a bright investment for retail spaces.
About Atop
As a professional LED Screen Manufacturer, Atop provides reliable products, comprehensive services and creative solutions for our LED Display industry.Since establishment, our team has been continuously innovating. Our LED Screen Rental, High Resolution LED Displays, Transparent Posters, Flexible LED Displays, Indoor and Outdoor LED Screens have the most advanced technology and forward-looking design in the present market.